Our 2023 Westchester Corporate Cup 5K Race was held on August 10, 2023 at the beautiful yet rainy Glen Island Park in New Rochelle, NY. We expected thunderstorms but got a mix of heavy and light rain. The race went on, rain or shine! Congratulations to all the participants who crossed the finish line, and kudos to those who pushed themselves beyond their limits!
Direct Travel Air Travel Raffle Winner:
Congratulations to Marissa Frusciante who won the Air Travel raffle that was donated by Direct Travel. They donated two economy air tickets valid for travel within the US 48 states, Caribbean and Mexico valued up to $500 each. To learn more about Direct Travel, please see their website at: https://www.dt.com/. We were able to raise $435 that will be donated to HOPE Community Services.
Please note that all proceeds from our race series go directly to Hope Community Services to help feed the underprivileged living in New Rochelle and to provide homeless services to veterans and the needy throughout Westchester County.
Thank you to all of our amazing Gold and Silver Corporate Sponsors, whom without this sponsorship these events wouldn't be possible. These are great pillars of the Westchester County business community.
Congratulations once again to everyone who participated!
Gold Sponsors

Dorian Drake International, Inc. is an innovative leader in the field of export management, providing US manufacturers with a full-service alternative to staffing and managing their own export sales department. Read more about the prestigious brands we represent internationally at www.DorianDrake.com
With its tradition, experience and focus on the future, PKF O'Connor Davies is ready to help clients meet today's ever-changing economic conditions and manage the growing complexities of the regulatory environment. For more information, visit www.PKFOD.com

Silver Sponsors

Pearlgreen Corporation is a family owned & operated Contractor & Building Maintenance Supply company, providing "white glove customer service" to the NY Metropolitan area for over 80 years. Get to know us at www.pearlgreen.com
Eifert, French & Ketchum is a regional independent insurance agency and risk management firm serving businesses, institutions and families for over 80 years. Find out more about our services at www.EFK.com
Denlea & Carton LLP is a preeminent, White Plains based, litigation boutique representing business owners in complex, high value disputes. Westchester's Premier Litigation Boutique, our services: commercial and corporate litigation, IP disputes, media and entertainment disputes, employment law, shareholder and partnership disputes. Learn more at www.denleacarton.com
Elite Investigations is a national, full-service security firm. Elite provides unarmed and armed security guards, loss prevention specialists, special event officers, undercover operatives, private investigators, flaggers, cyber security and a host of security and risk management services.. Learn more at www.eliteinvestigation.com/
Finish Line Physical Therapy, located in Chelsea in NYC and in New Rochelle in Westchester. Finish Line PT offers 45-minute one-on-one treatment sessions with a physical therapist to ensure individualized care and attention for all patients. With 14 years of experience, they have expanded to not only include physical therapy but recovery services like cryotherapy, infrared sauna, and compression sleeves. Learn more at www.finishlinept.com
Northpath Investments is a privately-held real estate investment firm headquartered in New York City. Northpath is focused on the acquisition, development, redevelopment, and management of retail, industrial, and office properties in the Northeast and Mid-Atlantic. Learn more at https://northpathinvestments.com
Willdan provides professional consulting and technical services to utilities, public agencies and private industry throughout the United States. Its broad set of complementary disciplines span energy efficiency, distributed energy resources and software, engineering and planning, public finance and economic consulting. Learn more at www.willdan.com
It's important to acknowledge the organizers and volunteers who worked hard to make this event possible. Without their dedication and effort, this race wouldn't have been possible. Thank you for your commitment to promoting a healthy and active lifestyle within the community.
Race Results:
Click for All Participant Race Results & Photos!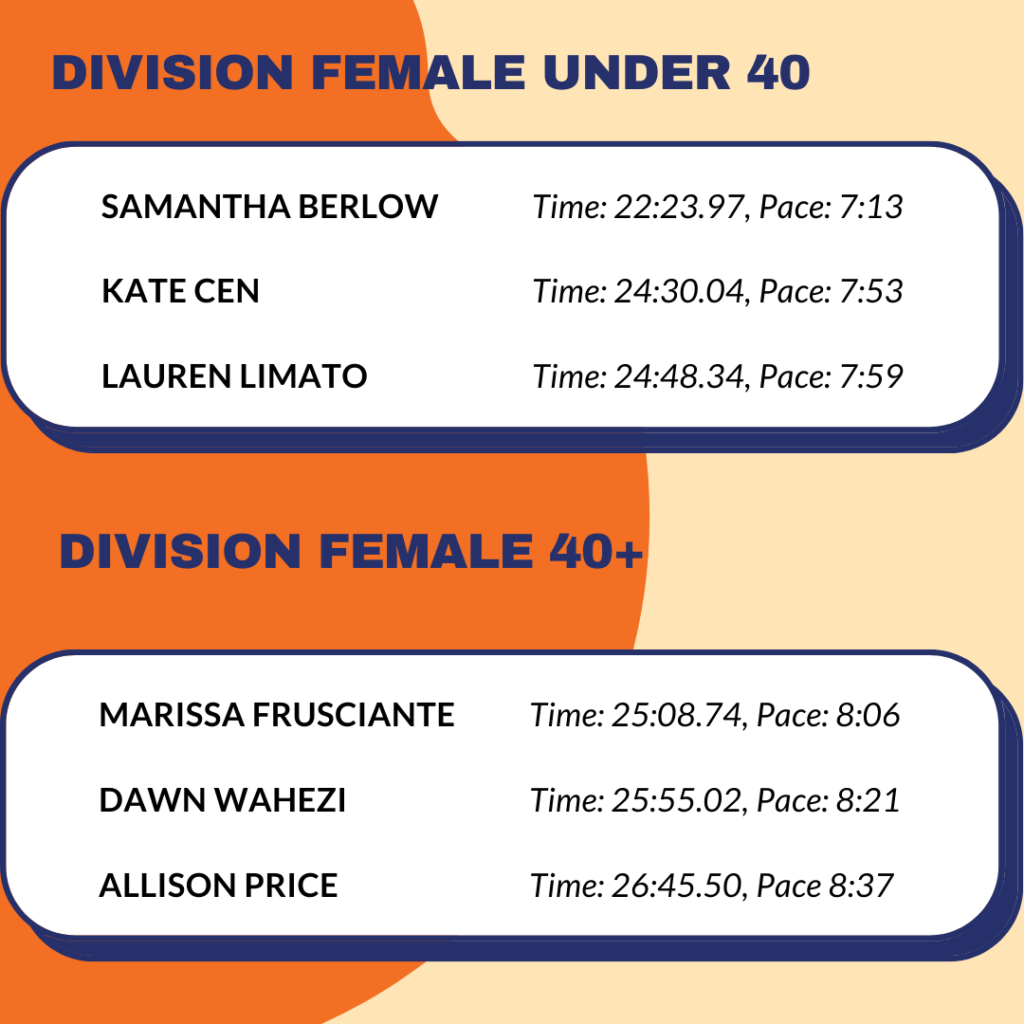 View Race Photos: