Corporate Teams 
Creating a Corporate Team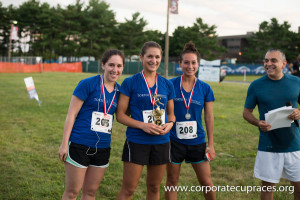 A company can register runners for the event as part of a corporate team, or when registering on the website you can select to join one.  On race day, please confirm your team with a race official. If you are signing up a team on race day, make sure to do so at least 30 minutes before the race is scheduled to start (6:00 for a 6:30 start).
New this year, no more men or women-only team divisions. Teams are gender neutral and are comprised of three team members.
A company can have multiple teams competing in the same race.
.  It's also fun to get creative with the team names.
Corporate Team Award Winners
The corporate team with the lowest total combined time as measured by the electronic timing system is the winner. 
The first place and second place team at each race will receive a team trophy for display at their office.
The winners will be announced during the awards presentation after the end of the race.
May the best corporate team win, but overall have fun with it…