WESTCHESTER CORPORATE CUP 5K Race #3
SUNY Purchase, NY
Wednesday, August 10th, 2016
Cloudy and warm (85f)
Chronotrack Timing by ClubConnecticut.org
Post updated on August 16, 2016
The last race of the 2016 Westchester Corporate Cup 5k Summer Race Series was held on Wednesday, August 10th at Purchase College. We had a a good turnout even with the challenging weather conditions.
Congratulations to Nicholas Peretta and Andrea Remec for placing 1st overall male and female respectively.
Please note that all proceeds from our race series go directly to Hope Community Services to help feed the underprivileged living in New Rochelle and supporting programs to house homeless veterans throughout Westchester County.
Thank you to all of our sponsors, all race/walk participants, and to our great volunteers who helped set up the race and man the water stations. At the water stations, in fact, we had several veterans who were permanently housed by programs affiliated with Hope Community Services. The event could not have been such a success without you all!
In addition to the wonderful organizations that consistently come out on race day,we want to thank The Gap (Stamford) for making their second appearance volunteering at registration and managing a water station. Thank you to Rita's Ice of Elmsford for supplying Ice treats on a hot day. We thank Battle Frog for coming again and promoting their adult obstacle courses with a mini challenge after the race. ML Strength came out as well and led an awesome dynamic stretch before the race. You can definitely see its impact in the results!
Below you will find the race results and pictures from the event. Feel free to download them, share them, or use them on social media. Use the hashtag #westchestercorporatecup. Follow us on Instagram and like us on FaceBook @CorpCupRaces. We will post some of the pictures there as well.
Finish Line Videos: Unfortunately, we were not able to do video of runners and walkers crossing the finish line for this race due to the rain and weather conditions.
Race Sponsors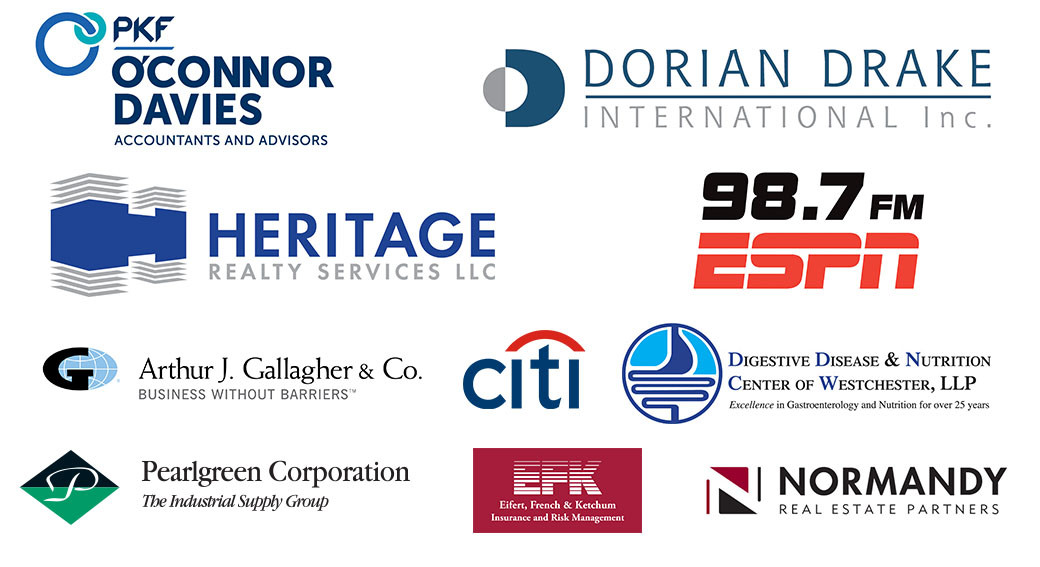 Race Photos
Race Results
Finish Line Videos: Coming soon…
| OVR | NAME | TIME | PACE |
| --- | --- | --- | --- |
| 1 | NICHOLAS PERETTA | 19:32.2 | 6:18 |
| 2 | MACIEJ PRZYBYLOWSKI | 20:14.2 | 6:31 |
| 3 | BRENDAN BLANEY | 20:33.0 | 6:37 |
| 4 | WILL GROSSETT | 20:35.4 | 6:38 |
| 5 | PEDRO YUPA | 21:08.0 | 6:49 |
| 6 | PATRICK DIGGINS | 21:42.9 | 7:00 |
| 7 | MICHAEL RACANELLO | 21:54.7 | 7:04 |
| 8 | ANDREA REMEC | 21:58.8 | 7:05 |
| 9 | BRIAN MCGRATTAN | 22:17.3 | 7:11 |
| 10 | AMY JORDAN | 22:19.2 | 7:12 |
| 11 | KENNY DORIAN | 23:16.5 | 7:30 |
| 12 | MATTHEW OBRIEN | 23:38.4 | 7:37 |
| 13 | VERONICA WELSH | 23:44.6 | 7:39 |
| 14 | JEREMY CHATOOR | 24:03.8 | 7:45 |
| 15 | CARSON BROOKS | 24:20.5 | 7:51 |
| 16 | TESSA SHORE | 24:21.7 | 7:51 |
| 17 | GEORGE ANTONIO | 24:26.4 | 7:53 |
| 18 | ADAM SHAPIRO | 24:36.7 | 7:56 |
| 19 | ELENA BARROWS | 24:44.1 | 7:58 |
| 20 | PETER SENKO | 24:55.9 | 8:02 |
| 21 | LAURE WASSEN | 25:01.2 | 8:04 |
| 22 | LAUREN MAGIN | 25:08.0 | 8:06 |
| 23 | OSCAR DE AGUSTIN GARCIA | 25:24.3 | 8:11 |
| 24 | JEFF SEDOR | 25:25.3 | 8:11 |
| 25 | JEFFREY SZE | 25:35.1 | 8:15 |
| 26 | DAVID ACCOLLA | 25:44.1 | 8:17 |
| 27 | KELLY JUDGE | 25:53.4 | 8:21 |
| 28 | MICHAEL AMICUCCI | 26:02.4 | 8:23 |
| 29 | DOUGLAS STRAUSS | 26:13.9 | 8:27 |
| 30 | DAVID KAMP | 26:15.4 | 8:28 |
| 31 | JEFFREY CAREY | 26:36.0 | 8:34 |
| 32 | STEVEN DAVIS | 26:36.5 | 8:34 |
| 33 | JOHN MCNAMARA | 27:50.3 | 8:58 |
| 34 | FERNANDA CONSTANTE | 28:10.3 | 9:05 |
| 35 | KERRI-ANN KRAETZER | 28:33.2 | 9:12 |
| 36 | KELLY SIEGRIST | 28:38.0 | 9:13 |
| 37 | PAUL PARTHEMORE | 28:41.4 | 9:15 |
| 38 | DUSTIN KAPSON | 28:48.3 | 9:17 |
| 39 | CHIP CARDON | 28:49.6 | 9:17 |
| 40 | CHRISTOPHER TAYLOR | 28:57.3 | 9:20 |
| 41 | ELIZABETH MATAMOROS | 29:02.1 | 9:21 |
| 42 | SYLVIA LOUIE | 29:02.4 | 9:21 |
| 43 | JOSEPH DOINO | 29:15.7 | 9:26 |
| 44 | PATRICIA DIIORIO | 29:16.5 | 9:26 |
| 45 | KEVIN BRADY | 29:26.9 | 9:29 |
| 46 | ANGELA DESIMONE | 29:28.4 | 9:30 |
| 47 | ARACELLI DURAND | 29:31.0 | 9:31 |
| 48 | JAMES CASTRO | 29:39.0 | 9:33 |
| 49 | DIEGO RODRIGUES | 29:41.4 | 9:34 |
| 50 | STEPHANIE MUNGROO | 30:03.0 | 9:41 |
| 51 | THERESA BALZANO | 30:04.1 | 9:41 |
| 52 | ED DORIAN | 30:20.2 | 9:46 |
| 53 | MICHELLE BEAHM | 30:39.3 | 9:53 |
| 54 | RAMON BUSTILLOS | 30:56.8 | 9:58 |
| 55 | LUIS CALDERON | 31:28.5 | 10:08 |
| 56 | SHERYL GREENBERG | 31:32.3 | 10:10 |
| 57 | REBECCA KINAL | 31:36.8 | 10:11 |
| 58 | SARAH BRAY | 32:05.1 | 10:20 |
| 59 | SUMI SEDOR | 32:05.2 | 10:20 |
| 60 | EMILY ALKIEWICZ | 32:20.0 | 10:25 |
| 61 | RUTHIE YANKWITT | 32:40.7 | 10:32 |
| 62 | FAISAL QASIM | 32:55.4 | 10:36 |
| 63 | RAY DEJESUS | 33:00.8 | 10:38 |
| 64 | DEBORAH CHARLEMAGNE | 33:47.9 | 10:53 |
| 65 | WILLIAM HORN | 34:36.1 | 11:09 |
| 66 | WENDY LEE | 34:38.0 | 11:09 |
| 67 | JOSU OMAECHEVARRIA | 34:53.2 | 11:14 |
| 68 | ADRIANA SANTANIELLO | 35:13.3 | 11:21 |
| 69 | MICHAEL DELLAMEDAGLIA | 35:17.7 | 11:22 |
| 70 | GEORGE STEFOPOULOS | 35:33.1 | 11:27 |
| 71 | KATIE MALLON | 35:38.0 | 11:29 |
| 72 | JAMES HEGEDUS | 36:00.4 | 11:36 |
| 73 | JOHN COSTANZO | 36:01.1 | 11:36 |
| 74 | LOUIS RENNA | 36:05.5 | 11:37 |
| 75 | BRADLEY TORREZ | 36:06.0 | 11:38 |
| 76 | RACHEL NISSENBLATT | 38:14.4 | 12:19 |
| 77 | ASHLEY LEY | 38:59.2 | 12:33 |
| 78 | ANGIE PLUMAJ | 39:10.2 | 12:37 |
| 79 | EVIE BUCKETT | 39:20.5 | 12:40 |
| 80 | CARL SANCHEZ | 40:26.6 | 13:02 |
| 81 | STEPHANIE DIMARTINO | 41:07.9 | 13:15 |
| 82 | DOMINICK DIMARTINO | 41:08.0 | 13:15 |
| 83 | MEGAN MACFADGEN | 41:40.9 | 13:25 |
| 84 | FRANK D'ARCANGELO | 41:42.0 | 13:26 |
| 85 | DONNA ESPOSITO | 42:30.2 | 13:41 |
| 86 | MICHAELA REINA | 44:14.3 | 14:15 |
| 87 | CAROLINE DOOLEY | 45:30.6 | 14:39 |
| 88 | ANTONIO NIN | 47:09.8 | 15:11 |
| 89 | ISRAEL MEDINA | 52:51.5 | 17:01 |
| 90 | KENNETH KRAETZER | 55:58.2 | 18:01 |
| 91 | BETH HOFFMAN | 55:58.6 | 18:02 |
| 92 | MARIYLN RIVERA | 56:30.4 | 18:12 |
| 93 | FLORENTINO MANAIZA | 56:32.2 | 18:12 |
| 94 | ALONZO HARGROVE | 56:32.5 | 18:12 |
| 95 | ERIC SCHWARZ | 00:17.1 | 19:25 |
| 96 | TANISHA MANAIZA | 00:17.4 | 19:25 |
| 97 | KATHERINE VILCAPOMA | 00:17.7 | 19:25 |
| 98 | MICHAEL PINEAU | 00:54.1 | 19:37 |
| 99 | ERICA LOMBARDI | 00:54.9 | 19:37 |
| 100 | LISA KNAPP | 01:24.9 | 19:47 |
| 101 | JESSICA LOHSE-CINTRON | 01:29.2 | 19:48 |
| 102 | SALLY CERCHIA | 01:29.7 | 19:48 |
Division Results
| | | |
| --- | --- | --- |
| Men 39 and Under | | |
| Name | Time | Pace |
| NICHOLAS PERETTA | 19:32.2 | 6:18 |
| BRENDAN BLANEY | 20:33.0 | 6:37 |
| WILL GROSSETT | 20:35.4 | 6:38 |
| | | |
| --- | --- | --- |
| Men 40 and Over | | |
| Name | Time | Pace |
| MACIEJ PRZYBYLOWSKI | 20:14.2 | 6:31 |
| MICHAEL RACANELLO | 21:54.7 | 7:04 |
| DAVID ACCOLLA | 25:44.1 | 8:17 |
Women 39 and Under
Name
Time
Pace
ANDREA REMEC
21:58.8
7:05
AMY JORDAN
22:19.2
7:12
VERONICA WELSH
23:44.6
7:39
Women 40 and Over
Name
Time
Pace
KERRI-ANN KRAETZER
28:33.2
9:12
PATRICIA DIIORIO
29:16.5
9:26
THERESA BALZANO
30:04.1
9:41