WESTCHESTER CORPORATE CUP 5K Race #2
SUNY Purchase, NY
Wednesday, July 20th, 2016
Sunny, clear, and warm (82f)
Chronotrack Timing by ClubConnecticut.org
The second race of the 2016 Westchester Corporate Cup 5k Summer Race Series was held on Wednesday, July 20th at Purchase College. We had a fantastic turnout, which can surely be attributed to the great weather.
In addition to the wonderful organizations that consistently come out on race day, we want to thank ESPN Radio 98.7 FM New York for making their second appearance, and the Westchester Knicks and Rolling Video Games for making the race a huge success. Sean Fitzpatrick from One 2 One Bodyscapes Mamaroneck came out as well and led an awesome dynamic stretch before the race. You can definitely see its impact in the results!
We would like to congratulate Ellery Rajagopal and Andrea Remec for being the male and female champions respectively. Team A from New York Power Authority emerged victorious in the male team competition with an impressive average time of 22:03. Not to be outdone, though, were the "Houla-Girls" from Houlihan Barnes coming in with a time of 31:41. The co-ed trophy went to NYPA Team Awesome.
For the second time we are offering the option to view a video recording of your finish. Click here or on the link below to watch yourself cross the finish line!
Please note that all net proceeds from Wednesday's race go directly to Hope Community Services to help the underprivileged living in New Rochelle and throughout Westchester County.
Thank you to all of our sponsors, both new and returning, and to our great volunteers who helped set up the race and man the water stations. At the water stations, in fact, we had several veterans who are permanently housed by Hope. The event could not have been such a success without you!
Below you will find the race results and pictures from the event. Feel free to download them, share them, or use them on social media. Use the hashtag #westchestercorporatecup. Follow us on Instagram @CorpCupRaces; we will post some of the pictures there as well.
Finish Line Videos: https://results.chronotrack.com/event/results/event/event-20305
Race Sponsors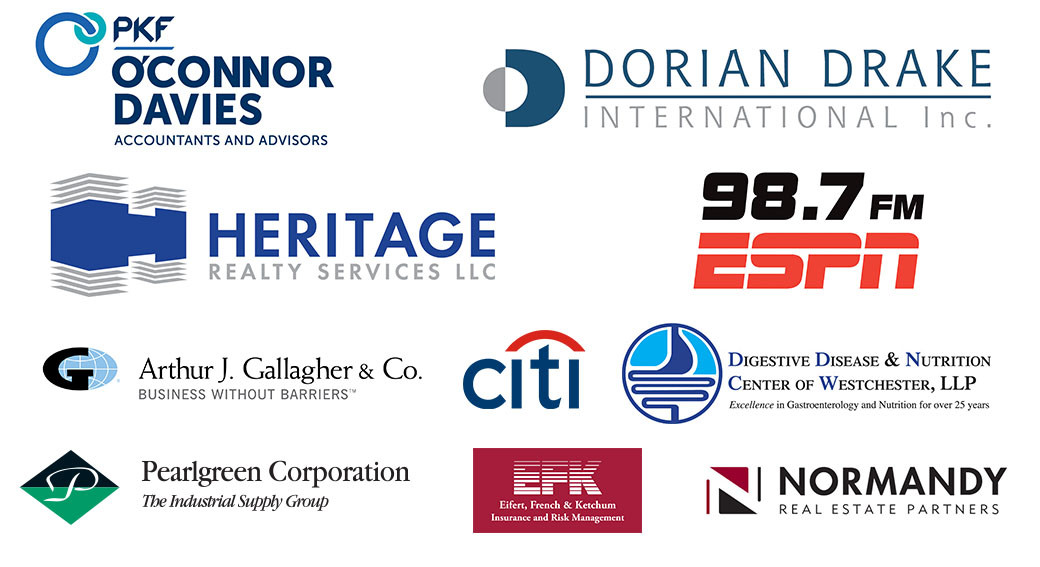 Race Photos
Race Results
Finish Line Videos: https://results.chronotrack.com/event/results/event/event-20305
| OVR | NAME | TIME | PACE |
| --- | --- | --- | --- |
| 1 | ELLERY RAJAGOPAL | 0:19:00 | 6:08 |
| 2 | NICHOLAS PERETTA | 0:19:17 | 6:13 |
| 3 | LUKE SAVILLE | 0:20:01 | 6:27 |
| 4 | PEDRO YUPA | 0:20:02 | 6:28 |
| 5 | MACIEJ PRZYBYLOWSKI | 0:20:31 | 6:37 |
| 6 | BRENDAN BLANEY | 0:20:57 | 6:45 |
| 7 | MICHAEL RACANELLO | 0:21:00 | 6:46 |
| 8 | RANDALL EHRLICH | 0:21:14 | 6:51 |
| 9 | JONATHAN GOLDMAN | 0:21:46 | 7:01 |
| 10 | ANDREA REMEC | 0:22:04 | 7:07 |
| 11 | VERONICA WELSH | 0:22:34 | 7:16 |
| 12 | LISA VIRELLI | 0:22:52 | 7:22 |
| 13 | MATTHEW OBRIEN | 0:23:09 | 7:27 |
| 14 | KENNY DORIAN | 0:23:15 | 7:30 |
| 15 | PETER KENTROS | 0:23:20 | 7:31 |
| 16 | DENNIS NOSKIN | 0:23:25 | 7:33 |
| 17 | MICHAEL MCEVOY | 0:23:27 | 7:33 |
| 18 | AUSTIN DREKSLER | 0:23:36 | 7:36 |
| 19 | MARK SMITH | 0:23:42 | 7:38 |
| 20 | PETER SENKO | 0:23:56 | 7:43 |
| 21 | JASON BRESLIN | 0:24:15 | 7:49 |
| 22 | TOMASZ OLFANS | 0:24:43 | 7:58 |
| 23 | ELENA BARROWS | 0:24:43 | 7:58 |
| 24 | STEPHANIE MUNGROO | 0:24:50 | 8:00 |
| 25 | JEFFREY SZE | 0:24:56 | 8:02 |
| 26 | ADAM SHAPIRO | 0:24:57 | 8:02 |
| 27 | MICHAEL CUNIBERTI | 0:25:03 | 8:04 |
| 28 | HEATHER METZ | 0:25:30 | 8:13 |
| 29 | DAVID ACCOLLA | 0:25:32 | 8:14 |
| 30 | KELLY JUDGE | 0:25:33 | 8:14 |
| 31 | JONATHAN FLORES | 0:25:38 | 8:16 |
| 32 | JAMES CASTRO | 0:25:43 | 8:17 |
| 33 | TOM DOHERTY | 0:25:56 | 8:21 |
| 34 | PAUL PARTHEMORE | 0:25:58 | 8:22 |
| 35 | ALBA PADIN | 0:26:02 | 8:23 |
| 36 | MICHAEL AMICUCCI | 0:26:22 | 8:30 |
| 37 | JEFFREY CAREY | 0:26:48 | 8:38 |
| 38 | FERNANDA CONSTANTE | 0:26:53 | 8:40 |
| 39 | JOHN MCNAMARA | 0:27:17 | 8:47 |
| 40 | LUIS CALDERON | 0:27:27 | 8:51 |
| 41 | ED DORIAN | 0:27:34 | 8:53 |
| 42 | CHRIS CANELLAS | 0:27:50 | 8:58 |
| 43 | TREVOR KRANEC | 0:28:11 | 9:05 |
| 44 | SYLVIA LOUIE | 0:29:27 | 9:29 |
| 45 | RAMON BUSTILLOS | 0:29:29 | 9:30 |
| 46 | NICK PRIGNANO | 0:29:36 | 9:32 |
| 47 | SHERYL GREENBERG | 0:29:38 | 9:33 |
| 48 | JOHN COSTANZO | 0:29:44 | 9:35 |
| 49 | JAMES HEGEDUS | 0:29:44 | 9:35 |
| 50 | DIEGO RODRIGUES | 0:30:00 | 9:40 |
| 51 | THERESA BALZANO | 0:30:07 | 9:42 |
| 52 | ADAM ROSS | 0:30:26 | 9:48 |
| 53 | BRADLEY TORREZ | 0:30:33 | 9:51 |
| 54 | JEREMIAH HOULIHAN | 0:30:42 | 9:54 |
| 55 | JAMES HRICAY | 0:30:48 | 9:55 |
| 56 | JONATHAN RAPPA | 0:31:16 | 10:04 |
| 57 | EMILY ALKIEWICZ | 0:31:20 | 10:06 |
| 58 | MICHELLE BEAHM | 0:31:27 | 10:08 |
| 59 | THOMAS DEFILIPPO | 0:32:18 | 10:24 |
| 60 | SOLANGIE LEDESMA | 0:32:23 | 10:26 |
| 61 | RAY DEJESUS | 0:32:42 | 10:32 |
| 62 | ANGELICA HODGES | 0:32:43 | 10:32 |
| 63 | OLGA ROZHANSKAYA | 0:33:11 | 10:41 |
| 64 | KATIE MALLON | 0:33:22 | 10:45 |
| 65 | WILLIAM HORN | 0:33:34 | 10:49 |
| 66 | KELLY SIEGRIST | 0:33:34 | 10:49 |
| 67 | BRYAN MOORE | 0:33:35 | 10:49 |
| 68 | JEANNIE WALSH | 0:33:36 | 10:49 |
| 69 | DOREEN SCHMIDT | 0:33:50 | 10:54 |
| 70 | LOUIS RENNA | 0:33:51 | 10:54 |
| 71 | FAISAL QASIM | 0:34:42 | 11:11 |
| 72 | LISA STAMATELOS | 0:34:51 | 11:14 |
| 73 | DEBORAH CHARLEMAGNE | 0:34:56 | 11:15 |
| 74 | KRISTOPHER BAYS | 0:35:00 | 11:16 |
| 75 | MARK UGLIAROLO | 0:35:39 | 11:29 |
| 76 | JOEMAR MIANE | 0:36:08 | 11:38 |
| 77 | ANGREA CARTER | 0:36:29 | 11:45 |
| 78 | RACHEL NISSENBLATT | 0:37:03 | 11:56 |
| 79 | KEN NADEL | 0:37:31 | 12:05 |
| 80 | MADISON SERGI | 0:37:37 | 12:07 |
| 81 | EVIE BUCKETT | 0:37:48 | 12:10 |
| 82 | CARL SANCHEZ | 0:37:56 | 12:13 |
| 83 | JOEY VALCARCEL | 0:37:59 | 12:14 |
| 84 | MICHAEL DOINO | 0:37:59 | 12:14 |
| 85 | EMILIE FIDOCK | 0:38:17 | 12:20 |
| 86 | HANNAH MILLER | 0:38:17 | 12:20 |
| 87 | JAMES PRIZEMAN | 0:38:35 | 12:26 |
| 88 | MEGAN MACFADGEN | 0:39:19 | 12:40 |
| 89 | ANGIE PLUMAJ | 0:39:25 | 12:42 |
| 90 | ELIZABETH TAUSZ | 0:40:06 | 12:55 |
| 91 | SARAH COFFEY | 0:40:08 | 12:56 |
| 92 | KELLY PASCAL | 0:40:21 | 13:00 |
| 93 | EDDIE FRANGOS | 0:40:23 | 13:01 |
| 94 | MARITZA FRIAS | 0:40:26 | 13:01 |
| 95 | JOHN ROUSSO | 0:40:30 | 13:03 |
| 96 | MIGUELINA LEDESMA | 0:40:40 | 13:06 |
| 97 | MELISSA DEJESUS | 0:40:47 | 13:08 |
| 98 | STEPHANIE DIMARTINO | 0:40:54 | 13:10 |
| 99 | DOMINICK DIMARTINO | 0:40:56 | 13:11 |
| 100 | NUNO FERREIRA-2 | 0:40:56 | 13:11 |
| 101 | MORENIKE FAGBEYIRO | 0:41:22 | 13:19 |
| 102 | DONNA ESPOSITO | 0:44:00 | 14:10 |
| 103 | BRIAN TASHMAN | 0:44:08 | 14:13 |
| 104 | CRISTINA ZAPATA | 0:45:46 | 14:44 |
| 105 | MICHAEL RAMPERT | 0:47:33 | 15:19 |
| 106 | XHENI MECI | 0:47:34 | 15:19 |
| 107 | FLO MANAIZA | 0:47:38 | 15:20 |
| 108 | MARIO FERNANDEZ | 0:47:39 | 15:21 |
| 109 | LISETTE RAMOS | 0:48:00 | 15:27 |
| 110 | ANGELI MIANE | 0:48:06 | 15:29 |
| 111 | PILAR WILKINS | 0:48:31 | 15:37 |
| 112 | JORDAN WINTER | 0:49:11 | 15:50 |
| 113 | LUIS CABALLERO | 0:49:33 | 15:57 |
| 114 | MARILYN RIVERA | 0:50:42 | 16:20 |
| 115 | LISA ADDARICH | 0:50:57 | 16:24 |
| 116 | ALONZO HARGEROVE | 0:51:06 | 16:27 |
| 117 | LISA BRYAN | 0:51:15 | 16:30 |
| 118 | NUNO FERREIRA | 0:51:16 | 16:31 |
| 119 | MICHELLE GALLOTTI | 0:51:20 | 16:32 |
| 120 | BETH HOFFMAN | 0:51:50 | 16:41 |
| 121 | ZAK RAMOS | 0:51:54 | 16:43 |
| 122 | KAREN ADAM | 0:51:55 | 16:43 |
| 123 | STEPHANIE FIELDS | 0:52:26 | 16:53 |
| 124 | VICTOR CHUNG | 0:52:26 | 16:53 |
| 125 | ANTONIO NIN | 0:52:36 | 16:56 |
| 126 | ALMALINA COLLINS | 0:53:33 | 17:15 |
| 127 | ISREAL MEDINA | 0:54:23 | 17:31 |
| 128 | JACOB WIENER | 1:03:01 | 20:17 |
| 129 | PAUL MORRIS | 1:03:13 | 20:21 |
| 130 | NATALIE ALI | 1:03:17 | 20:23 |
| 131 | NICK MARICH | 1:03:17 | 20:23 |
| 132 | ERIC SCHWARZ | 1:03:20 | 20:24 |
| 133 | JULIA ROBINSON-KASS | 1:05:31 | 21:06 |
| 134 | BROOKE WESSLING | 1:05:33 | 21:06 |
| 135 | MELISSA MILLER | 1:10:01 | 22:33 |
| 136 | AMANDA LEDER | 1:10:01 | 22:33 |
| 137 | ANNA FERDMAN | 1:10:28 | 22:41 |
| 138 | KATHERINNE VILCAPOMA | 1:10:38 | 22:45 |
| 139 | SHAINA BERRY-HACKETT | 1:10:38 | 22:45 |
| 140 | REGINA FARSETTA | 1:12:32 | 23:21 |
Division Results
| | | |
| --- | --- | --- |
| Men 39 and Under | | |
| Name | Time | Pace |
| ELLERY RAJAGOPAL | 19:00.3 | 6:08 |
| NICHOLAS PERETTA | 19:17.4 | 6:13 |
| LUKE SAVILLE | 20:01.2 | 6:27 |
| | | |
| --- | --- | --- |
| Men 40 and Over | | |
| Name | Time | Pace |
| MACIEJ PRZYBYLOWSKI | 20:30.9 | 6:37 |
| MICHAEL RACANELLO | 21:00.0 | 6:46 |
| RANDALL EHRLICH | 21:14.4 | 6:51 |
Women 39 and Under
Name
Time
Pace
ANDREA REMEC
22:04.2
7:07
VERONICA WELSH
22:34.3
7:16
LISA VIRELLI
22:52.0
7:22
Women 40 and Over
Name
Time
Pace
SHERYL   GREENBERG
29:38.4
9:33
THERESA BALZANO
30:06.8
9:42
ANGELICA   HODGES
32:43.0
10:32
Team Results
| | | | | |
| --- | --- | --- | --- | --- |
| Team Type | Division Rank | Team Name | Team Members | Average Time |
| Co-Ed | 1 | NYPA Team Awesome | JEFFREY SZE, PAUL PARTHEMORE, SYLVIA LOUIE, EVIE BUCKETT | 29:32.3 |
| Co-Ed | 2 | Team Zuccerelli | VINCENT ZUCCARELLI, JOHN MCNAMARA, EMILY ALKIEWICZ, OLGA ROZHANSKAYA | 30:35.8 |
| Co-Ed | 3 | KVL Audio Visual Services | NICK PRIGNANO, ADAM ROSS, LISA STAMATELOS, LISA BRYAN | 36:32.1 |
| Men | 1 | NYPA A | NICHOLAS PERETTA, MACIEJ PRZYBYLOWSKI, MICHAEL AMICUCCI | 22:03.3 |
| Men | 2 | Houligan's | MICHAEL MCEVOY, MICHAEL CUNIBERTI, TREVOR KRANEC | 25:33.8 |
| Men | 3 | NYPA B | ADAM SHAPIRO, TOM DOHERTY, JEFFREY CAREY | 25:53.2 |
| Men | 4 | Dorian Drake Bad Boyz | KENNY DORIAN, JAMES CASTRO, DIEGO RODRIGUES | 26:19.5 |
| Men | 5 | HP Orange | MARK SMITH, TOMASZ OLFANS, JONATHAN RAPPA | 26:33.4 |
| Men | 6 | Dorian Drake Good Boyz | LUIS CALDERON, ED DORIAN, CHRIS CANELLAS | 27:36.9 |
| Men | 7 | Dennis Noskin Architects | DENNIS NOSKIN, BRYAN MOORE, JOHN ROUSSO | 32:30.0 |
| Women | 1 | Houla-Girls | KELLY JUDGE, THERESA BALZANO, ANGIE PLUMAJ | 31:41.6 |
| Women | 2 | JPMorgan Chase Rockstars | DEBORAH CHARLEMAGNE, DONNA ESPOSITO, LISA ADDARICH | 43:17.6 |