WESTCHESTER CORPORATE CUP 5K Race #1
SUNY Purchase, NY
Wednesday, June 15th, 2016
Sunny and warm (83f)
Chronotrack Timing by ClubConnecticut.org
The first race of the 2016 Westchester Corporate Cup 5k Summer Race Series was held on Wednesday, June 15th at SUNY Purchase College. Despite the heat and humidity, we had the best turnout we have ever had for the first race of the summer!
Shortly before the race was schedule to start, we were asked by campus police to run the course backwards for traffic and safety reasons. The SUNY Purchase campus is a circle, so this change in plans did not lead to any real logistical issues, but it did have an effect on the runners. Instead of starting the race with a difficult up-hill stretch, the whole course was a gradual incline leading up to a steep decent for the final quarter-mile. There was much debate following the race among runners as to which route was easier. The consensus: both were pretty tough.
Even with the unfamiliar course layout, we saw some great times from the winning teams and individuals. Congratulations to the men's team from Rail Europe for averaging a stellar score of 22:57. Not to be outdone was the women's team from Tortoise Investment Management, who finished with an average time of 23:08. The Co-Ed champion was the four person team from Dorian Drake International.
Please note that all net proceeds from Wednesday's race go directly to Hope Community Services to help the underprivileged living in New Rochelle and throughout Westchester County.
Thank you to all of our sponsors, both new and returning, and to our great volunteers who helped set up the race and man the water stations. At the water stations, in fact, we had several veterans who are permanently housed by Hope. The event could not have been such a success without you!
Below you will find the race results and pictures from the event. Feel free to download them, share them, or use them on social media. Use the hashtag #westchestercorporatecup. Follow us on Instagram @corp_cup_races; we will post some of the pictures there as well.
 Race Sponsors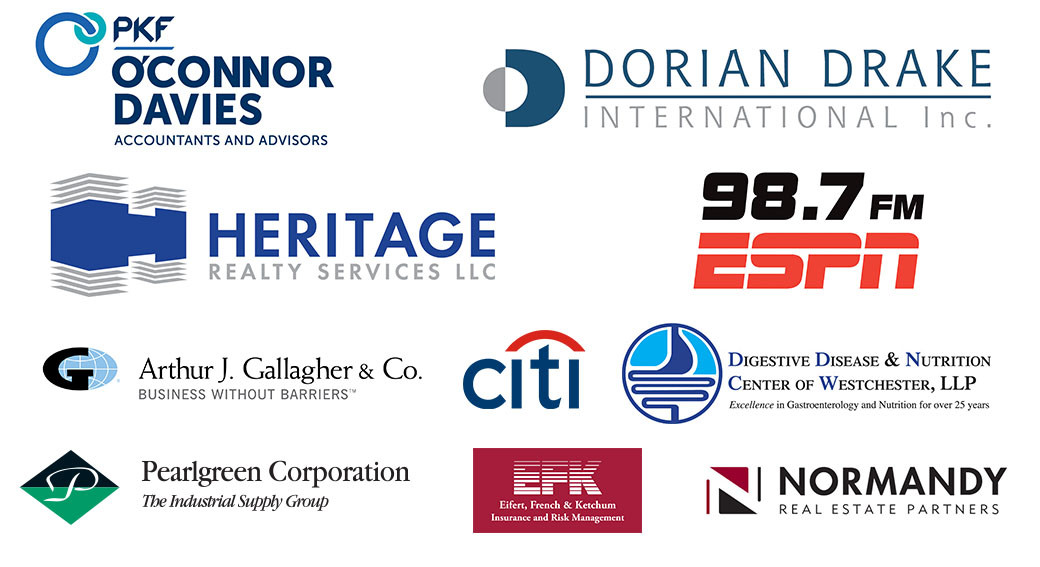 Race Photos
Race Results
| OVR | NAME | HOMETOWN | Full Course Net Time | PACE |
| --- | --- | --- | --- | --- |
| 1 | NICHOLAS PERETTA | Purchase, NY | 19:37.7 | 6:20 |
| 2 | ZINE BELHONCHET | White Plains, NY | 19:41.7 | 6:21 |
| 3 | RANDALL EHRLICH | Greenwich, CT | 21:12.6 | 6:50 |
| 4 | ANDREA REMEC | West Harrison, NY | 21:18.0 | 6:52 |
| 5 | FABRICE GARZULINO | White Plains, NY | 21:21.6 | 6:53 |
| 6 | JONATHAN GOLDMAN | Bellerose, NY | 21:41.5 | 6:59 |
| 7 | KAMEN STOYKOV | New York, NY | 21:49.1 | 7:02 |
| 8 | JANINE TEDESCO | White Plains, NY | 21:49.2 | 7:02 |
| 9 | MICHAEL LEE | New York, NY | 22:27.5 | 7:14 |
| 10 | PETER KENTROS | West Harrison, NY | 22:53.1 | 7:22 |
| 11 | TREVOR KRANEC | Newburgh, NY | 22:58.4 | 7:24 |
| 12 | ANGELA DESIMONE | West Harrison, NY | 23:24.0 | 7:32 |
| 13 | KENNY DORIAN | Riverside, CT | 23:44.2 | 7:39 |
| 14 | PETER SENKO | Harrison, NY | 24:01.6 | 7:44 |
| 15 | MATTHEW OBRIEN | Manchester, CT | 24:06.8 | 7:46 |
| 16 | DAVID LIVADHI | Yorktown Heights, NY | 24:11.7 | 7:48 |
| 17 | ADAM SHAPIRO | Astoria, NY | 24:35.6 | 7:55 |
| 18 | JEFFREY SZE | Teaneck, NJ | 24:42.0 | 7:58 |
| 19 | TESSA SHORE | West Harrison, NY | 24:44.5 | 7:58 |
| 20 | DAVID ACCOLLA | New York, NY | 25:13.7 | 8:08 |
| 21 | MARK SMITH | Poughkeepsie, NY | 25:21.6 | 8:10 |
| 22 | ELENA BARROWS | New York, NY | 25:38.5 | 8:16 |
| 23 | JEREMY CHATOOR | Brooklyn, NY | 26:12.7 | 8:27 |
| 24 | STEVEN DAVIS | White Plains, NY | 26:17.2 | 8:28 |
| 25 | JOSEPH TEDESCO | Greenwich, CT | 26:17.7 | 8:28 |
| 26 | ALVARO SARMIENTO | Purchase, NY | 26:35.7 | 8:34 |
| 27 | PAUL PARTHEMORE | New York, NY | 26:50.5 | 8:39 |
| 28 | STEVEN SHECK | West Harrison, NY | 27:28.7 | 8:51 |
| 29 | RAMESH MUNUGANI | White Plains, NY | 27:48.3 | 8:57 |
| 30 | LUIS CALDERON | -, US | 27:51.3 | 8:58 |
| 31 | DIEGO RODRIGUES | Brewster, NY | 27:53.5 | 8:59 |
| 32 | ED DORIAN | Riverside, CT | 28:05.0 | 9:03 |
| 33 | FERNANDA CONSTANTE | Stamford, CT | 28:31.5 | 9:11 |
| 34 | SEAN DALY | Parsippany, NJ | 28:53.1 | 9:18 |
| 35 | THERESA BALZANO | West Harrison, NY | 29:18.5 | 9:27 |
| 36 | SYLVIA LOUIE | Ossining, NY | 29:50.8 | 9:37 |
| 37 | MICHELLE BEAHM | White Plains, NY | 30:22.5 | 9:47 |
| 38 | SHERYL GREENBERG | Briarcliff Manor, NY | 31:09.0 | 10:02 |
| 39 | DAVID LULGJURAJ | West Harrison, NY | 31:23.2 | 10:07 |
| 40 | KASEY LINNANE | Harrison, NY | 31:32.5 | 10:10 |
| 41 | JOHNNY LIVADHI | Yorktown Heights, NY | 31:41.9 | 10:13 |
| 42 | BRADLEY TORREZ | Tarrytown, NY | 31:47.3 | 10:14 |
| 43 | LARRY GREENBERG | New Rochelle, NY | 32:10.4 | 10:22 |
| 44 | ANGELA ZEOLLA | Harrison, NY | 32:20.4 | 10:25 |
| 45 | JONATHAN RAPPA | Hopewell Junction, NY | 32:34.8 | 10:30 |
| 46 | ARACELLI DURAND | Ossining, NY | 32:59.1 | 10:38 |
| 47 | LESLY FABBRI | Mahopac, NY | 33:22.3 | 10:45 |
| 48 | SIOBHAN JONES | Mount Vernon, NY | 33:26.8 | 10:46 |
| 49 | WENDY LEE | West Harrison, NY | 33:30.1 | 10:47 |
| 50 | RACHEL NISSENBLATT | White Plains, NY | 33:46.5 | 10:53 |
| 51 | LOURDES EYER | Montgomery, NY | 33:57.8 | 10:56 |
| 52 | KATIE MALLON | Stormville, NY | 34:01.0 | 10:57 |
| 53 | DEEPAK SHAH | White Plains, NY | 34:11.7 | 11:01 |
| 54 | GLORIA LEE | Greenwich, CT | 34:15.4 | 11:02 |
| 55 | ANGELICA HODGES | West Harrison, NY | 34:26.1 | 11:06 |
| 56 | JOHN COSTANZO | Port Chester, NY | 34:38.3 | 11:09 |
| 57 | LOUIS RENNA | Brooklyn, NY | 34:55.0 | 11:15 |
| 58 | ANTHONY SILVER | Greenwich, CT | 35:16.4 | 11:22 |
| 59 | STEWART STRAUSS | Port Chester, NY | 35:44.8 | 11:31 |
| 60 | JAMES HEGEDUS | Port Chester, NY | 35:45.0 | 11:31 |
| 61 | LISA CASSELLS | Norwalk, CT | 35:56.4 | 11:35 |
| 62 | ED GRAF | West Harrison, NY | 36:02.8 | 11:37 |
| 63 | TIKINA FEARON | Stamford, CT | 36:39.5 | 11:48 |
| 64 | JOHN KLINGER | Yonkers, NY | 36:42.1 | 11:49 |
| 65 | JAMES CASTRO | Ossining, NY | 36:42.7 | 11:49 |
| 66 | JENNINE BAJJO | Bronx, NY | 37:05.1 | 11:57 |
| 67 | KEN NADEL | Short Hills, NJ | 37:16.1 | 12:00 |
| 68 | RAY DEJESUS | Bronx, NY | 37:23.9 | 12:03 |
| 69 | HAZEL DEROSARIO | Harrison, NY | 37:39.5 | 12:08 |
| 70 | KAMINI PATEL | White Plains, NY | 38:09.8 | 12:18 |
| 71 | JOEY VALEARCEL | -, US | 39:19.4 | 12:40 |
| 72 | ELIZABETH TAUSZ | Ossining, NY | 39:22.8 | 12:41 |
| 73 | MARIA GOMEZ | New Rochelle, NY | 39:30.0 | 12:43 |
| 74 | BRENDA OLIVEROS | New Rochelle, NY | 39:30.1 | 12:43 |
| 75 | BERND KORING | Carmel, NY | 39:30.4 | 12:43 |
| 76 | ERIC SCHWARZ | Forest Hills, NY | 39:58.7 | 12:53 |
| 77 | SANTOS ALMODOVAR | New York, NY | 40:03.9 | 12:54 |
| 78 | LUIS CABALLERO | Poughkeepsie, NY | 41:16.3 | 13:18 |
| 79 | MARIA G. GARCIA LUA | New Rochelle, NY | 41:51.2 | 13:29 |
| 80 | ALMA ROSE ANDRADE BARAJAS | New Rochelle, NY | 41:51.5 | 13:29 |
| 81 | MARIA DIAZ | New Rochelle, NY | 41:51.5 | 13:29 |
| 82 | JA'NET MCGHEE | White Plains, NY | 42:44.2 | 13:46 |
| 83 | CARL SANCHEZ | New Rochelle, NY | 45:19.2 | 14:36 |
| 84 | ALEXANDRA LIVADHI | Yorktown Heights, NY | 45:30.9 | 14:40 |
| 85 | MOGAN MACFADGEN | Peekskill, NY | 45:31.8 | 14:40 |
| 86 | SAVA LIVADHI | Yorktown Heights, NY | 45:51.1 | 14:46 |
| 87 | PETER BROWN | Mamaroneck, NY | 45:52.5 | 14:46 |
| 88 | MAULIKKUMAR MEGHA | White Plains, NY | 47:24.6 | 15:16 |
| 89 | ARMILEE SITON | Port Chester, NY | 49:36.7 | 15:59 |
| 90 | JEAN JAPINGA | White Plains, NY | 49:53.1 | 16:04 |
| 91 | MIRIAM LOPERFIDO | White Plains, NY | 51:28.1 | 16:34 |
| 92 | RUZBEH MISTRY | White Plains, NY | 51:36.5 | 16:37 |
| 93 | ZAK RAMOS | -, US | 51:38.7 | 16:38 |
| 94 | MICHAEL STOLZAR | White Plains, NY | 52:14.5 | 16:49 |
| 95 | LISETTE RAMOS | Mamaroneck, NY | 52:30.2 | 16:54 |
| 96 | KAREN ADAM | Hopewell Junction, NY | 52:30.6 | 16:55 |
| 97 | ALONZO HARGROVE | Bronx, NY | 53:22.0 | 17:11 |
| 98 | ISREAL MEDINA | Bay Shore, NY | 53:24.3 | 17:12 |
| 99 | AMAL RABADI | Yonkers, NY | 54:48.2 | 17:39 |
| 100 | PAULA MELO | Yonkers, NY | 54:48.8 | 17:39 |
Division Results
Men 40 & Over
Division Rank
Overall Rank
Gender Rank
Name
Time
Pace
1
2
2
ZINE BELHONCHET
19:41.7
6:21
2
3
3
RANDALL EHRLICH
21:12.6
6:50
3
5
4
FABRICE GARZULINO
21:21.6
6:53
Women 40 & Over
Division Rank
Overall Rank
Gender Rank
Name
Time
Pace
1
35
7
THERESA BALZANO
29:18.5
9:27
2
38
10
SHERYL GREENBERG
31:09.0
10:02
3
49
16
WENDY LEE
33:30.1
10:47
Men 39 & Under
Division Rank
Overall Rank
Gender Rank
Name
Time
Pace
1
1
1
NICHOLAS PERETTA
19:37.7
6:20
2
6
5
JONATHAN GOLDMAN
21:41.5
6:59
3
7
6
KAMEN STOYKOV
21:49.1
7:02
Women 39 & Under
Division Rank
Overall Rank
Gender Rank
Name
Time
Pace
1
4
1
ANDREA REMEC
21:18.0
6:52
2
8
2
JANINE TEDESCO
21:49.2
7:02
3
12
3
ANGELA DESIMONE
23:24.0
7:32
 Team Results
Co-Ed Teams
Team Rank
Team Name
Team Members
Average Time
1
Dorian Drake Co-Ed
LUIS CALDERON, KASEY LINNANE, KATIE MALLON, JAMES CASTRO
32:31.9
2
Broadridge FXL Co-Ed B
DAVID ACCOLLA, STEVEN DAVIS, JENNINE BAJJO, MOGAN MACFADGEN
33:32.0
Men's Teams
Team Rank
Team Name
Team Members
Average Time
1
Rail #1
ZINE BELHONCHET, FABRICE GARZULINO, RAMESH MUNUGANI
22:57.2
2
New York Power Authority
NICHOLAS PERETTA, JEFFREY SZE, PAUL PARTHEMORE
23:39.7
3
The DDI Men
KENNY DORIAN, DIEGO RODRIGUES, ED DORIAN
26:34.2
4
Broadridge FXL
DAVID LIVADHI, BRADLEY TORREZ, LOUIS RENNA
30:18.0
5
Strauss Paper
JOHN COSTANZO, STEWART STRAUSS, JAMES HEGEDUS
35:22.7
Women's Teams
Team Rank
Team Name
Team Members
Average Time
1
Tortoise Investment Management Women
ANDREA REMEC, ANGELA DESIMONE, TESSA SHORE
23:08.8
2
The DDI Women
FERNANDA CONSTANTE, ANGELICA HODGES, TIKINA FEARON
33:12.4
3
Rail #2
KAMINI PATEL, JEAN JAPINGA, MIRIAM LOPERFIDO
46:30.3